Microsoft mistakenly posts up the Lumia 950 and 950 XL to official Web store
38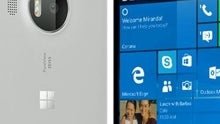 We've seen the
press renders
. We've heard the numerous accounts of their specs and features. Now Microsoft has offered some legitimacy to the
Lumia 950
and
950 XL
by posting them up on one of its official retail sites. On a page over at the Windows maker's U.K. Web store, both handsets were showcased in all of their glory before being hastily removed. We managed to grab a screenshot before Microsoft pulled the plug, and finally, we have some official specs.
As has been apparent for quite a while now, the smaller of the two upcoming smartphones will include a 5.2-inch quad-HD display, while the 950 XL will offer a larger, 5.7-inch screen of the same resolution. A welcome enhancement for those who like to count up the pixels, it'll be the first handset out of Redmond to delve into the realms of quad-HD, while also being the first to run on Windows 10 Mobile out of the box.
The listing also confirmed the 32 GB of on-board storage for each, although expansion via microSD is a possibility for those seeking a tad more real estate. Both will also house 20-megapixel rear-facing shooters featuring ZEISS optics. Since the higher-end Lumias have always prided themselves on impressive camera tech, we're expecting nothing less than a sensational point-and-shoot experience once more.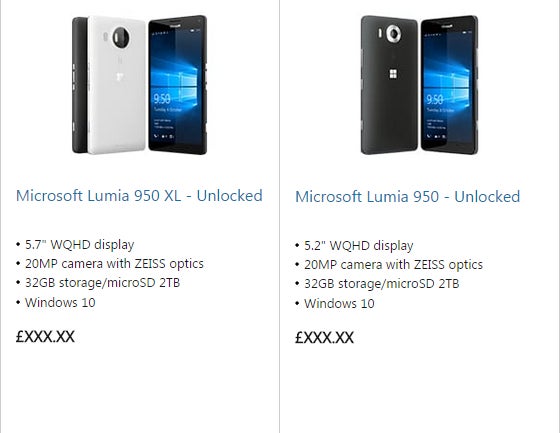 Following a series of major press events from Samsung, Apple, and most recently Google, there's still plenty to look forward to in October. HTC is expected to take the wraps off its
One A9
in a few weeks' time, and before that, these two highly-anticipated entrants from Microsoft will almost certainly make an appearance.
Since they've been outed on the website now, it looks like Microsoft is ready to unleash these handsets. Unfortunately, despite the confirmation of key features, the prices remain absent. With a special event lined up for next week in NYC, though, we won't have to wait much longer.
Are you looking forward to the new Lumia 950 duo? Let us know in the comments.