Microsoft leaks upcoming WP-powered Nokia Sabre
19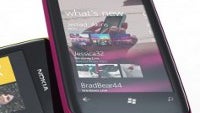 Have you ever heard of the
Nokia Sabre
? Neither have we, but Microsoft took it for common knowledge and incidentally leaked the handset in the terms and conditions of a competition rules page posted by Microsoft Canada.
Watchful entrants noticed the blunder, which has now been removed from the T&C page, but initially it read:
"The type of Windows Phone 7.5 will vary and will be selected at Microsoft's choosing (examples include Samsung Yukon, Samsung Wembley, Nokia Searay and

Nokia Sabre

). Wireless carrier and wireless service not included. Activation terms and conditions are at the sole discretion of the phone manufacturer and wireless carrier."
We've previously heard about the
Nokia Searay
, which will allegedly have the same body as the Nokia N9, but flavored with Windows Phone Mango juices. The Nokia Sabre however remains mysterious - we have not a single detail except for the name of the device. There were however
some past rumors
about a 3.7" Nokia phone supporting a micro SIM card.
While we don't when is it coming, chances are that it will land with the first wave of Nokia Windows Phone handsets
this Holiday season
. Nokia's chief executive himself confirmed that the Finns are way on track to outing the handset by the end of the year.