A slew of new Windows Phone devices show up in WP Bench
16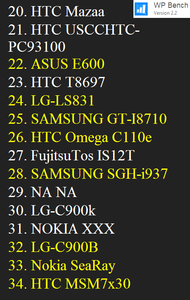 Thanks to a screenshot taken from the benchmarking application WP Bench, it appears as though there are a good number of unannounced Windows Phone Mango devices being tested, signaling that Mango's release is close.
The benchmark lists 15 different Windows Phone devices, 8 of which are more than likely getting the Mango treatment when they get released. Some of the names on the list may sound familiar, such as the HTC Mazaa that is destined for Sprint and the Fujitsu IS12T that packs a 13.2 megapixel camera and is currently up for
pre-order
in Japan.
The HTC Omega, which may be announced at HTC's
upcoming event
on September 1, also showed up on the list as well as the Nokia SeaRay. It is nice to know that these phones are out in the wild seeing how they perform. That being said, we seem to be inching closer to a widespread release of Windows Phone Mango every day. Tell us what you think in the comments below.
source:
wpcentral