Microsoft is undergoing a fundamental shift to become a 'devices and services' company
14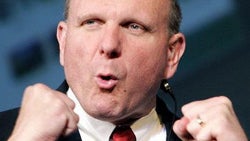 Microsoft has finally said it: a
"fundamental shift is underway,"
transforming the company from a services provider to a device and service model. In an annual letter to shareholders, chief executive Steve Ballmer puts it all out clearly.
But you've probably already guessed it - after all the company is launching a tablet it made on its own in a couple of weeks, the
Microsoft Surface
. And rumors about Microsoft working on a phone have recurred way too often too ignore them.
This of course doesn't mean the Windows maker will stop seeking the support of other manufacturers it has traditionally worked with.

"There will be times when we build specific devices for specific purposes, as we have chosen to do with Xbox and the recently announced Microsoft Surface. In all our work with partners and on our own devices, we will focus relentlessly on delivering delightful, seamless experiences across hardware, software and services."
Looking back at the present and past, that's a huge shift, but not entirely new for Microsoft that already has the Zune player and the Xbox in its track record.
The company will also continue working on its Kinect initiative and new interfaces, and that is great news. Here are Microsoft's priorities over the coming years:

- Developing new form factors that have increasingly natural ways to use them including touch, gestures and speech.
- Making technology more intuitive and able to act on our behalf instead of at our command with machine learning.
- Building and running cloud services in ways that unleash incredible new experiences and opportunities for businesses and individuals.
- Firmly establishing one platform, Windows, across the PC, tablet, phone, server and cloud to drive a thriving ecosystem of developers, unify the cross-device user experience, and increase agility when bringing new advancements to market.
- Delivering new scenarios with life-changing improvements in how people learn, work, play and interact with one another.
And for the full letter, just hit the source link below, but don't hesitate to also let us know what you think about this new Microsoft, a company of not just software, but hardware as well - do you think it's products will succeed?
source:
Microsoft