Microsoft has no Lumia 1030 in the pipeline, reportedly
35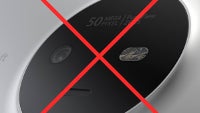 Last month, we heard a new round of rumors regarding Microsoft's potential flagship, which was believed to bear the
Lumia 1030 name
. Reportedly, it was codenamed "McLaren" internally. It was expected that the Lumia 1030 would be the successor of the
Nokia Lumia 1020
, Nokia's 2013 flagship smartphone that is publicly believed to be one of the bets cameraphones of its time.
We had heard that the
Lumia 1030 will sport a 50MP camera at its back
, accompanied by a 4th-generation pulse LED flash at the back. Earlier this year, we even told you that this McLaren device will pioneer Microsoft's Kinect-like gesture-based controls, but this speculation was quickly scrapped.
It seems that there might not be a Lumia 1030. This has been reported by Tom Warren, a senior editor with The Verge, who claims that Microsoft is not working on a Lumia 1030 and the leaked device we showed you is actually a canceled McLaren prototype, which did not employ a 50MP shooter, but a more modest 20MP one. It just that too many people got excited about this device and got a little bit carried away with the anticipation.
Does this mean that Microsoft is not prepping a new high-end Windows Phone-powered Lumia device? Of course not. Redmond surely has plans for a new top-tier smartphone, and although it might not necessarily be a successor to the Lumia 1020, chances are that we might hear something about it at one of next year's major mobile events, be it CES or MWC.
Disappointed?