Microsoft has cool Windows Phone projects in the pipeline, might phase out Zune for the Ventura service
2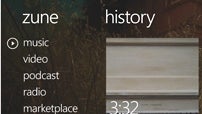 Ventura
is the name of a music and video service that might replace the good ol' Microsoft Zune. Zune hasn't been updated for a while, and, while we all agree its slick interface looks perfect on Windows Phone 7, Microsoft might be thinking of replacing it with something more cloud-oriented.
Ventura is a service "
revolving around music/video discovery and consumption.
" This smells like something cloud-based that allows you to search and stream music and video to your device, much like Pandora does it. Speculations are that this might make it onto Microsoft's Windows Phone OS further down the road. The new service has been spotted when the
Ventura Media Services
team posted a job position under the umbrella of Microsoft's Entertainment and Devices division, which is also responsible for Xbox and Zune.
On a separate note,
Microsoft Research
has listed some cool projects it is working on in its labs, in order to improve Windows Phone 7. One of them sounds pretty useful - take a picture with your WP7 device, and instead of retouching it on the handset, which is cumbersome, or downloading it for edit on your PC, which requires extra steps, it just gets uploaded to Microsoft's cloud services for sharpening the focus and enhancing the contrast, for example, then bounced back to your handset. Sounds innovative enough, and hopefully we will see it soon on our mobiles.
The other research project involves helping you find the right contact quickly, even if you make mistakes while keying in the name. We'll let Microsoft explain that, because we got lost grasping how they do it:
"
Mobile-phone users typically search for contacts in their contact list by keying in names or email IDs. Users frequently make various types of mistakes, including phonetic, transposition, deletion, and substitution errors, and, in the specific case of mobile phones, the nature of the input mechanism makes mistakes more probable. We propose a fuzzy-contact-search feature to help users find the right contacts despite making mistakes while keying in a query. The feature is based on the novel, hashing-based spelling-correction technology developed by Microsoft Research India. We support many languages, including English, French, German, Italian, Spanish, Portuguese, Polish, Dutch, Japanese, Russian, Arabic, Hebrew, Chinese, Korean, and Hindi. We have built a Windows Phone 7 app to demonstrate our fuzzy contact search. The solution is lightweight and can be used in any client-side contact-search scenario.
We have developed a hashing-based technology for addressing both spelling mistakes and multilinguality. The key idea is to represent names by hash codes and transform the problem into a similarity search problem involving hash codes.
"
Certainly promising developments on Microsoft's side, the issue is the speed with which they can get all of these to market. Hopefully by the time the
Nokia Windows Phone
hits, they will have become baked into Microsoft's mobile OS.
source:
BusinessInsider
&
WMPoweruser
Recommended Stories