Microsoft explains why Continuum is MIA on the Lumia 650
16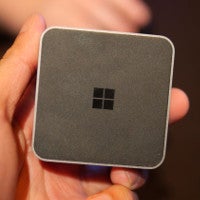 Unveiled yesterday, the
Microsoft Lumia 650
is an odd little duck in the Windows 10 Mobile ecosystem
. Packed with some entry-level specs (the Snapdragon 212 SoC is under the hood), Microsoft reportedly produced the phone for business users. That is why it comes pre-installed with Microsoft Office apps. Even though the device is
coming to pre-paid carrier Cricket Wireless
, as we told you yesterday, Microsoft sees the Lumia 650 as a cheap handset for companies to hand out to employees.
As we said, the Lumia 650 is odd. Why design a phone for the enterprise without including one of the best pro business features that you offer? For Microsoft that would be Continuum. On the
Microsoft Lumia 950
and
Microsoft Lumia 950 XL
, this feature allows the user
to turn the phone into a makeshift computer
using USB cables and the Display Dock. You can plug in a mouse, a monitor and a keyboard, and let the phone power the portable computer set-up.
The reason why Continuum doesn't work with the Lumia 650 revolves around the minimum specs required to run the feature. According to Microsoft, a phone must be powered by one of three chipsets to use Continuum. Those three are the Snapdragon 617, Snapdragon 808 or Snapdragon 810. It also has to sport a minimum 2GB of RAM. These minimum requirements obviously eliminate the Lumia 650.
Of course, the next question is why did Microsoft not beef up the specs on the Lumia 650 so that it could support Continuum? The answer is rather simple. Microsoft makes phones covering numerous price points. The Lumia 650 is supposed to be cheap for businesses to buy and use. At its price point, it does contain several business features including Office, One Drive and Cortana capabilities. As one Microsoft spokesman says, if you want the Continuum feature, go buy the Lumia 950 or Lumia 950 XL.
"We are aiming to deliver the most productive Windows 10 Mobile devices at all price points. With the Lumia 650, our goal was to create a beautiful device that's affordable for businesses to buy and deploy...in this price range we are giving customers smart business tools, including seamless Office and OneDrive integration and Cortana, so users can stay productive and synced across all Windows 10 devices. We encourage users looking for Continuum productivity features to explore the Lumia 950 and Lumia 950 XL."-Microsoft Spokesman
source:
SlashGear