Video gives you the features of Continuum in a nut shell
18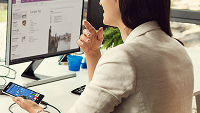 A video that clocks in just shy of a minute, reveals some of the features that Windows 10 Mobile users will enjoy with Continuum. Power a second screen with your handset, and you will be able to run your apps on the larger display, even while making or taking a call on your phone. And with the Display Dock, you can hook your Lumia up to a mouse and a QWERTY keyboard, and turn your phone into a desktop PC.
Let's say that you have your Windows 10 Mobile handset connected to a larger screen, a QWERTY and a mouse. While sitting at your office desk, you work on some spreadsheets that you need to bring to a meeting later in the day. When the time comes, you can disconnect your handset from the screen, keyboard and mouse, and head over to the meeting with all of the information from the spreadsheet stored right on your phone.
The Continuum feature will debut on the
Microsoft Lumia 950
and
Microsoft Lumia 950 XL
. The Display Dock supports HDMI and DisplayPort, comes with three USB 3.0 ports, and a USB Type-C port. It's perfect for someone who wants a large screen computer to work on, but also needs the mobility of a smartphone.
source:
Core
via
WindowsCentral