Microsoft employees currently in a massive brainstorm session
39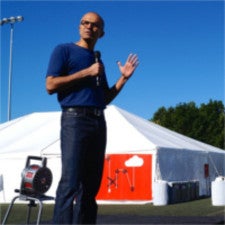 Microsoft CEO Satya Nadella seems to be determined to not only change the way the company focuses on and develops products, but also its culture. Following the announced restructure,
in which 18,000 Microsoft jobs will be rendered redundant
, Nadella now wants to start a new tradition, which will allow employees to be more involved in bringing new ideas to the table. Yesterday morning, he gave a speech that officially launched the Microsoft hackathon event. Hosted in a makeshift tent camp on Redmond's football field, it is a sort of a massive brainstorm session, which includes not only the employees present, but teams from around the world as well, making up a total of more than 10,000 workers.
"Time to stop the criticism and do something about it" was the tag line of the speech, which referred to the fact that employees now have a chance to change something in Microsoft's product line, instead of complaining about it, as it seems to have been the case for a while now. The hackathon gives the workers a chance to step out of their regular daily jobs and duties and pursue a project they are passionate about – be it the development of a brand new app, fixing the way something works (or doesn't), add new features, or just try to hack into things and see where the security might need improvements.
The catch is that they only have 36.5 hours to create something. Of course, nobody expects a finished product. Near the end of the hackathon, Microsoft will bring in groups of various consumers to examine the different teams' projects. This is a reflection of Nadella's desire to make the company more responsive to customers. After the end of the hackathon, the projects will be voted on internally by Microsoft employees, and after being reviewed by the senior leadership – the winning team will get to sit down with Nadella and discuss their project's goals and future potential.
source:
GeekWire
via
Neowin