Microsoft details its Windows Store applications hub - $1.49 minimum price, up to 20/80 revenue split
5
Microsoft released the details about its Windows Store applications shop for Metro style apps, which will be
active with the first public beta of Windows 8 in February
. Nothing is said at this time whether it will also include non-Metroified programs, you know, like all of those you currently use on your PC, but Microsoft has said before that it will be a one stop shop for all Windows software.
Redmond throws developers some bone since the revenue split goes 80/20 for them if the app amasses more than $25000 in revenue, which will undoubtedly benefit larger software makers, but also encourages more quality and successful apps. Before the $25000 threshold the revenue split will be the usual 70/30 for the developer. The minimum app price seems set at $1.49, but $999 apps can make their way too.
Windows Store for Windows 8 application shop screenshots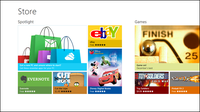 All the typical bells and whistles will be present like searching, categories, editorial picks and curation, previewing, reviewing, commenting, free trials and in-app purchasing. For clicking the buy button within an app Microsoft will also collect 30% of the revenue, but only if the transaction is done via its own payment method, 3rd party transactions will be exempt. Publishing in the store requires a
$49 registration fee
.
Since enterprise users are Microsoft's bread and butter, a special attention has been given to IT departments, which can allow users access to certain apps only, distribute and install apps to the machines they are in charge of remotely, and shuffle them on devices that are carried home at the end of the day, as might be the case with most Win 8 slates. As for international markets, it will be available in 231 one of them, and localized. Microsoft went on to say that half a billion Windows 7 licenses have been sold so far, which will make for the largest potential app market once they start being upgraded to Windows 8, together with the new Windows computers being sold after the official launch.
source:
Microsoft