SwiftKey 6.0 adds Double-Word Prediction and more
20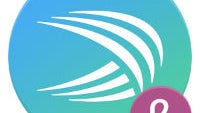 SwiftKey is on the verge of another major update that will bring the app to version 6.0. The update isn't quite ready for prime time though. SwiftKey 6.0 has been released under the SwiftKey Beta listing in the Google Play Store, and the update brings a very interesting new feature called Double-Word Prediction, as well as a few other enhancements.
Double-Word Prediction does exactly what you might expect - it will attempt to predict the next two words you want to type and not just the next one. Of course, SwiftKey will try to be smart about it and only offer up two-word predictions when it makes sense, so you will still see a lot of single-word predictions. The app will take into account your writing style and learn when to best offer the suggestions.
Obviously, the main aim is to speed up your typing, and giving two words at once certainly would have the potential to be twice as fast in those specific instances. Possibly most impressive is that the new Double-Word Prediction is available in all 100+ languages that SwiftKey supports.
SwiftKey 6.0 also has tried to make the emoji keyboard easier to access (just a long-press on the "123" key) as well as making it faster to get your recently used emoji from the ribbon at the top. Lastly, the Settings menu has seen a massive overhaul to organize options into fewer big, bold categories: Languages, Themes, Typing style and SwiftKey Account.
SwiftKey Beta 6.0 is available now in the Google Play Store.
Recommended Stories