Microsoft and Nokia to discuss sale of Nokia's mobile unit next week?
18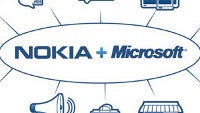 Update:
This time Nokia moved swiftly to deny the rumors as Mark Squires, Communications Director at Espoo, tweeted: "We typically don't comment on rumors. But we have to say that Eldar's rumors are getting obviously less accurate with every passing moment." We leave up to you to decide whether that means that no sale will be made or no talks will be held whatsoever, but for the time being it seems that Finland can stay assured that its mobile phone giant is to remain independent.
Do you know what could easily overshadow the $8.5 billion acquisition of Skype by Microsoft? How about a multi-billion acquisition of none other than the biggest phone maker in the world – Nokia? If we are to believe Russian tech analyst Eldar Murtazin's inside information, that's exactly what's about to happen as talks about the
sale of Nokia's mobile unit
are to be held next week between the two tech behemoths. What's more – both Redmond and Espoo are reportedly
in a hurry and the deal could close as soon as the end of 2011
. For the time being, however, Murtazin notes, everything will remain behind closed doors. As unbelievable as it would have been mere months ago, the deal sounds close to reality after
Nokia and Microsoft signed the Windows Phone agreement
.
If true, the deal will change not only Nokia, but the mobile landscape from the ground up. It's still a rumor, but it seems credible as Murtazin is the exact same analyst whoe correctly predicted that Nokia will ditch its Ovi branding two weeks ahead of the event. Currently, Nokia's market value hovers around the $33 billion mark and it's the company's main mobile unit that could be sold. How would this change the mobile industry? Feel free to share your opinions in the comments below!
source: MrMurtazin (
translated
)