Microsoft Surface Windows RT tablet might launch at $199, Acer CEO annoyed again
30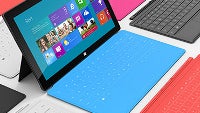 According to an anonymous tipster, briefed with Microsoft's plans for its Surface tablets launch at the TechReady 15 conference, Redmond is evaluating an option to launch the Windows RT slate at the very competitive $199 price point, eating the difference in production costs, if any.
This, of course, is the best way to spread the newborn Win RT platform far and wide, since both Google - with the
Nexus 7
- and Apple - with the expected
iPad mini
- will be doing the affordable tablet thing, and Microsoft has to be really competitive to have a shot at a tablet market where the iPad commanded 2/3 of the sales last quarter.
Wang noted that Microsoft is currently looking for solutions such as creating a price gap to minimize the negative impact on other vendors' product lineups, and he believes if Microsoft launches Surface at a price of US$199, it would have a rather significant impact, but if it is priced at around US$499-599, the effects will be a lot smaller.
That much we can tell too, but the sheer fact that Acer's CEO is using the $199 price point in a conversation about the Windows RT Surface tablet from Microsoft it pretty revealing. We don't know what decision Redmond will ultimately take about its Win RT tablet price at launch, but are salivating at the prospect to get a 10.6" slate with magnesium chassis for $200
come October 26
anyway. Perhaps that possibility was the real reason
Toshiba just shelved its RT tablet plans
, rather than the cited component supply shortages.
Recommended Stories