Microsoft Surface 2 generates more interest than its predecessor did last year
8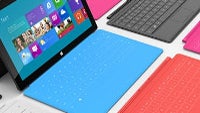 Based on Google Trends for Search data relating to the four Microsoft Surface devices that have been released, the Surface 2 is the most searched among the
Microsoft Surface RT
,
Microsoft Surface Pro
,
Microsoft Surface 2
and
Microsoft Surface Pro 2
. The sequel to Microsoft's Windows RT powered slab is surprisingly followed by searches for the original Microsoft Surface Pro.
Microsoft has done a heck of a job making the Surface 2 a more desired tablet. Consider that in July, the Redmond based tech titan took a $900 million write down of Microsoft Surface RT tablets wasting away in the warehouse. But since then, Microsoft increased the resolution on its Surface 2 slab from 1366 x 768 on the original to the current 1920 x 1080 on the 10.6 inch screen. The quad-core 1.3GHz Tegra 3 on the Surface RT has been replaced by the quad-core 1.7GHz Tegra 4 on the Surface 2, and the tablet is generating more of a positive buzz than the OG Surface RT did last year.
Microsoft has started to promote the Surface 2 in television spots against the
Apple iPad Air
and the
Samsung Galaxy Note 10.1
. Microsoft promoted the fact that
the Surface 2 offers a full sized USB port
, something neither tablet offers.

Data shows heavier demand for search requests for the Microsoft Surface 2
source:
TechCrunch