Microsoft turns aim to Samsung Galaxy Note 10.1 in latest Microsoft Surface 2 ad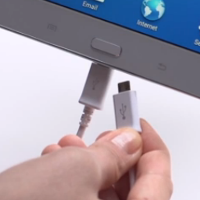 Just the other day, we showed you
a new commercial from Microsoft
that praised the
Microsoft Surface 2
and made fun of the
Apple iPad Air's
lack of a USB port. On Wednesday, it was the
Samsung Galaxy Note 10.1's
turn to get lambasted by Microsoft. Actually, there is a USB port on the Samsung slab, just not a full-sized one. And that means that you can't recharge the cell inside the
Galaxy Note 10
.1 and hook up a phone or another external device at the same time. And if you need to use a full-sized USB port on Sammy's slab, you can't without shelling out extra cash for the additional equipment you will need.
On the other hand, with the Microsoft Surface 2, you can recharge the phone, hook up a camera or a phone, and drink a glass of water all at the same time (and without moving your lips!).
If Microsoft keeps going after Apple and Samsung like this, it might be able to accomplish something that not even Dr. Henry Kissinger would be able to, getting the two biggest rivals in the industry to find a common enemy.
source:
MicrosoftSurface
,
MicrosoftNews
via
SlashGear