Microsoft Edge Preview app now available for Android users from the Google Play Store
10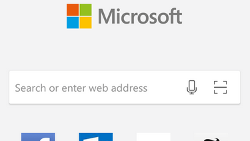 It was exactly one week ago today when we told you that Microsoft Edge for iOS was made official with 10,000 users allowed to sign up for a beta through TestFlight. We also told you that
the Android version of the app would be coming soon
. Starting today, the Android version of the Microsoft Edge browser is available without restrictions from the Google Play Store. Because Microsoft wants to use the rendering engine that works best for the platform, the Edge app for Android will employ Google's Blink instead of Microsoft's EdgeHTML.
The Microsoft Edge app for Android is available globally, not just in the U.S., and allows users to seamlessly work back and forth between a mobile device and a desktop PC. Some of the app's features include:
Continue on PC: Go anywhere and pick up where you left off by seamlessly moving content between your mobile device and PC (requires Windows 10 Fall Creator's Update).
Data Sync: Your favorites and reading list are synced across your devices, so no matter the device, your browser is always personalized to you.
Hub View: With your favorites, reading list, history and books all in one place, finding and managing your content is made simple.
Reading View: Reorganize the content on a webpage to make it easier to focus on what you're reading.
QR Code Reader: Easily read QR codes at the touch of a button. Microsoft Edge will pull up the reading and information right onto your screen.
Voice Search: You can now use your voice to search the web. Ask a question or speak a prompt to use the web in more natural, familiar ways.
InPrivate: When you browse with InPrivate mode, your browsing data (like your history, temporary internet files, and cookies) isn't saved on your PC once you're done.
The app is in preview, which means that more features are on the way.
To install the Microsoft Edge for Android app on your device, click on the sourcelink.
source: MicrosoftEdgePreview (Android) via Neowin