Michael Jackson doctor trial app shoots up to #1 on iTunes, also available for Android
6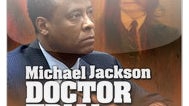 Say what you will about gadgets, and gadget obsessions, we have to admit that they've brought on new ways to immediately consume information and do it on-the-go, but tailored to our own preferences.
The latest #1 hit in iOS apps just proves that point, as it is
following the much hyped Conrad Murray trial with a live stream from the court room
. The guy was Michael Jackson's doctor, and Americans like nothing like a good court drama with high stakes, and the possible killing by negligence of the King of Pop ranks pretty high up there.
The "Michael Jackson Doctor Trial" app is available for both iOS and Android, and is seeing tremendous interest all around the world, especially Australia, UK and Germany. The idea about it came to Fox TV after a "Casey Anthony Trial" app proved to be a huge hit, said TV exec Jose Rios, and the popularity surprised even its creators. The app costs $0.99 and should have made a good chunk of change for the network already, allowing it to recoup some of the costs involved in live streaming the trial.