Meizu MX announced, will officially be the first to use the quad-core Exynos A9 CPU?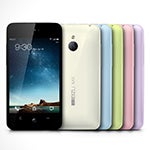 Yesterday Chinese smartphone manufacturer Meizu officially announced the Meizu MX quad-core smartphone, which they say will be the world debut of Samsung's quad-core A9 Exynos CPU. The A9 has undergone a die-shrink to 32nm, allowing the CPU to be faster and use less battery life (regardless of what Stephen Elop thinks).
The Meizu MX has been
rumored since late 2011
, and it sure looks like a sweet piece of kit – the screen resolution comes in at a very decent 292 PPI – a bit below the iPhone 4/4S and the Galaxy Nexus, but still a very respectable number. It also promises an 8 megapixel BSI camera with an f/2.2 lens aperture that excels in low-light conditions, and Android 4.0 Ice Cream Sandwich. And if the marketing material is anything to go by, it looks like it will launch in a wide array of pastel colors.
Sadly the phone will only retail in China, but it tells us something about the Galaxy SIII
– assuming the Meizu is correct, when their phone launches in June it will be the first phone to rock Samsung's new line of quad-core CPUs…the same CPUs expected to launch in Samsung's upcoming flagship. So while we expect
the Galaxy SIII to be announced in early May
, it appears the handset may not launch until sometime in June.
Also, we have to say that Meizu appears to be fully capable of making some very sexy smartphones.
source:
Meizu
via
Droid-Life