Meizu M1 Note (Blue Charm) is really just a large iPhone 5c wannabe, hands-on photos prove it
46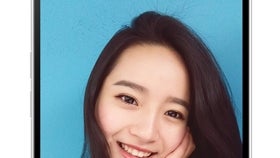 Meizu earlier this month announced
the M1 Note, aka Blue Charm Note
, a new 5.5-inch handset that offers an impressive list of features for only $160 (16 GB version). The handset is made mainly for the Chinese market, where competition is tougher than ever (Xiaomi's meteoric rise has certainly forced older manufacturers to rethink their strategies).
Even before its announcement,
we suspected
that the new Meizu smartphone would look a lot like Apple's
iPhone 5c
, and we were right to do so. The M1 Note was recently caught in the wild, and photographed next to Apple's plastic-made iPhone. As you can see below, Meizu copied even tiny details from the iPhone 5c, although, of course, there are also differences: the screen-to-body ratio is clearly in M1 Note's favor, the rear cameras have different positions and aspects, and the iPhone 5c has a 3.5mm headset jack at the bottom (while the M1 Note features one on the top). Also worthy of mention is that Meizu's smartphone comes in exactly the same colors that the iPhone 5c has: blue, green, pink, white, and yellow.
Although, as we said above, the M1 Note is first and foremost targeted at the Chinese market, the handset is featured on Meizu's international website. Does that mean it's going to be sold in other countries at some point? We're not sure yet, but we'll definitely let you know when we find out.