Meet the Jide Remix, an Android tablet that looks a lot like Microsoft's Surface Pro 3
23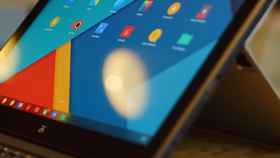 Do you like the
Surface Pro 3
, but wished it would not run Windows? Well, then you'll probably be happy to find out about the Remix, a brand new slate developed by a company called Jide.
Founded in 2014 by ex-Google employees, and based in China, Jide presents the Remix as "the world's 1st, true ultra-tablet." One of the interesting things about the new slate is that it runs Remix OS, a customized version of Android 4.4 KitKat that clearly has a lot in common with Windows 8 - including a taskbar.
Design-wise, the Jide Remix is obviously a Surface Pro 3 wannabe, complete with kickstand and magnetically connected, detachable keyboard. The tablet sports a 11.6-inch display with 1080 x 1920 pixels, and is powered by a Tegra 4 processor clocked at 1.8 GHz. Other features include 5 MP cameras on the back and front, 2 GB of RAM, 64 GB of expandable internal memory, and an 8100 mAh battery.
Jide says that the Remix will be available in the US sometime later this year for an estimated retail price of $449. The company is touting the tablet as a device that can replace your laptop (see the promo video included below), apparently believing that we haven't heard that Microsoft is marketing its Surface tablets in exactly the same way.
All in all, the Jide Remix "ultra-tablet" will be here to solve a so-called problem that the Surface Pro 3 can already solve (though for a higher price). What do you say, would you give the Remix a try?