MediaTek has two new 64-bit octa-core chipsets in the pipeline for 2015, does not jump over the 1.7GHz barrier
7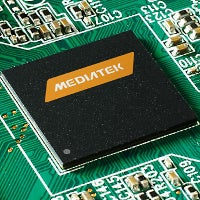 Earlier this year, the second-largest SoC manufacturer, MediaTek,
predicted that it will ship twice as many 4G-enabled chipsets
than it had initially forecasted. The hardware maker is still playing catch with its gravest rival, Qualcomm, which is comfortably nestled at the top of the SoC food chain and is the usual suspect when it comes to the chipsets in most flagship smartphones. MediaTek has a few ways to step up its game and stand up to Qualcomm, and naturally, the best one has a lot to do with the development of new chipsets. The company's roadmap for 2015 suggests that it's prepping a slew of new octa-core SoCs.
One of these is MediaTek's new 64-bit MT6753. The chipset is part of the manufacturer's roadmap for the next year and is expected to make the rounds some time in H2 of 2015.
This new silicon is a successor to the company's top-end octa-core MT6752 SoC. The new offering is not a rebel and sports eight Cortex
A53
cores as well, however, their clock rate is a little lower than MT6752's 1.7GHz one - four of the new silicon's cores are running at 1.3GHz, while the rest are clicking and ticking at 1.5GHz. Apart from the different clock speed, the new chipset is, all in all, rather similar to its predecessor - we are once again dealing with an ARM Mali T760 GPU aboard, the same old ISP (Image signal processor), as well as support for 16MP cameras.
What truly sets the MT6753 from the MT6752 is the added support for even more 3G/4G bands, as well as CDMA2000 1x and EVDO Rev A. The MediaTek MT6753 also has a toned-down version, the MT6753M that supports qHD displays (540 x 960 pixels) and up to 8MP cameras. Undoubtedly, both chipset will be targeted at the upper entry-level and the mid-range segments, in which MediaTek has a notable presence. There's no word, however, if
Android 5.0 Lollipop
will eventually run on these bad boys.