May the Moto Z Force be with you; a Star Wars Moto Mod is coming, but only to China
4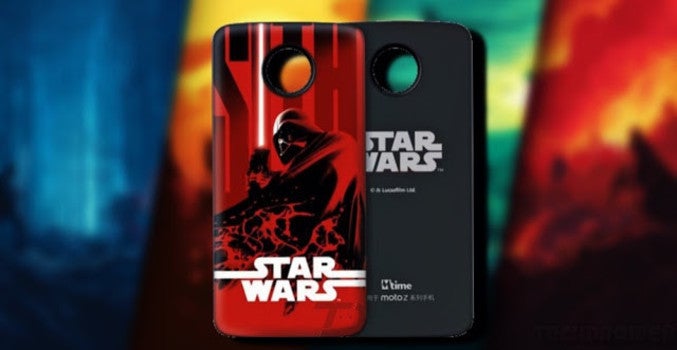 Motorola will offer a limited edition Star Wars themed Style Shell in China
So what is with this
Star Wars
thing? You think it might catch on? That's a joke, obviously, considering that the franchise is one of the all-time great theater draws. Just the other day, we told you that
the OnePlus 5T is going to be available in a special Star Wars Edition
. And today, there is word that Motorola will jump on board the now Disney controlled series by offering a
Star Wars
based Moto Mod.
This makes a lot of sense for Motorola. Any company that uses the word Force to name some of its Android handsets, has an instant
Star Wars
connection. Now before you get your hopes raised too high, this Moto Mod will not turn your Moto Z series handset into a real life lightsaber (now how cool would that be?). Actually, this is a Style Shell Moto Mod which is more a removable decorative back cover than a protective one.
The limited edition Star Wars Style Shell will be available in China only, priced at ¥129. If that price scares you, converted at today's exchange rate, it is roughly $19.50 USD. And since the Style Shell does nothing but look nice on the back of your Moto Z series phone, you can import one into the U.S. if you can find a retailer in China who will do that for you.
The Star Wars Moto Mod features an image of Darth Vader with his lightsaber and it should be launched some time over the next few weeks. And yeah, it seems that this Star Wars thing does have legs after all.
source:
Techdroider