Market analysts skeptical about the Galaxy Note 7 iris scanner's usefulness
14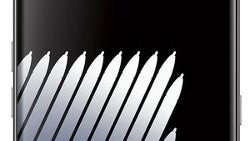 As the
Galaxy Note 7
's
unveiling date
approaches, we get more and more tidbits about the phone — some might even say we already know all there is to know about it before Samsung even takes the stage to show it to us. One of the features new to the line is the iris scanner – we've heard about it in reports, we've seen openings for it cut in leaked frontal panels of the device, and we've even seen
a screenshot
of the software that's going to operate it.
The Note 7's iris scanner is not going to be the first in the industry. Most prominently, such a device was featured on the
Microsoft Lumia 950
, where it worked in conjunction with Windows Hello – the software, which takes care of user security. So far, this type of lock hasn't gotten a stellar reception, mostly due to the physical limitations of a phone-mounted iris scanner, and market analysts fear that the same may happen with the Note 7's scanner.
The concerns are raised by how previous implementations of the technology worked in terms of speed and vulnerability to lighting conditions and distance from the user's face. In less-than-stellar conditions, the iris scanner could require more than one scan and has the person try different angles until they catch the best lighting over their eyes and the best positioning for the phone. Naturally, this can get annoying fast and leads to users preferring to go without the iris scanner altogether.
According to the analysts quoted by Korea Herald, Samsung needs to have taken great care to improve on the usability of the technology if it wants to meet the level of hype it has generated among its consumers.
We are also interested in seeing if Sammy has managed to improve upon the iris scanning tech in smartphones. While unlocking your phone while holding it up and staring at it may sound weird, maybe this type of lock can be used only for specific sensitive features, such as Samsung Pay. An iris read is said to be much harder to spoof than a fingerprint scan, and in this day and age, where we hold so much of our important information on our handsets, we can see the appeal for such a device.
It just so happens that we currently have a poll running on this very topic
right here
, so check it out and voice your opinion if you haven't!
source:
Korea Herald
via
SamMobile