Poll: are you excited to see the rumored iris scanner on the Galaxy Note 7?
45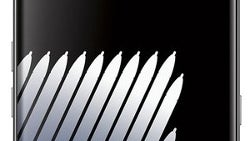 The Samsung Galaxy Note 7 will be announced in less than 2 weeks and, as can be expected, we have a pretty good idea of what to expect. Rumors, reports, and even photos have showed us
the curvy screen
, and the new
iris scanner module
, including
the software instructions
for operating it.
Now, we can't say we've had the best experience with iris scanners on smartphones thus far. The system looks like it requires certain conditions to work, needs the user to hold the phone in a specific way, and can end up feeling a bit awkward and clunky. On the flip side, however, fingerprint sensors can be spoofed, and with how prominent this type of lock has become nowadays, we can imagine that hackers will be getting craftier and bolder. Iris scanners, on the other hand, are a bit harder to lie to. Also, who knows – maybe Samsung will do
an awesome job at integrating it
?
Samsung has just managed to shake off the infamy it had for brim-packing its smartphones with questionable features that many called "gimmicks" and "bloat". Do you see the iris scanner as the return of the gizmo stuffing, or as an actual tool that you'd be happy to use?