Mango tucks away hidden internet sharing/mobile hotspot functionality
3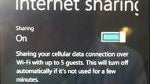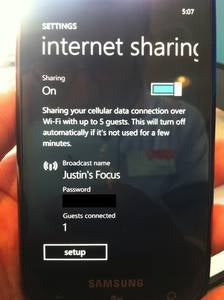 For any veteran Windows Mobile users out there, the functionality of
tethering
isn't something new, especially when it's one of the integral features found with Microsoft's aging mobile platform. However, with the advent of Windows Phone 7, the existence of easy to use tethering was completely annihilated.
Thankfully, there's
Mango
here to save them from their sorrows – well, sort of. Deep within the complex layers of Windows Phone 7 Mango, there lies the existence of the beloved feature, but it's not quite the same as it used to be with Windows Mobile. Specifically, it looks like
internet sharing and mobile hotspot functionality
is baked into the latest build of the platform, but it doesn't appear to be something that's easily accessed.
Surprisingly, one owner of a Samsung Focus running Mango was able to establish internet sharing with the device – going on to say that it "works like a charm." Naturally, that seems to be great and all, but with most things related to mobile hotspot, the handset is reportedly consuming more juice.
Not only that, but it seems that the feature isn't something that's accessible on the surface, but rather, it's going to require some sort of carrier update to enable. So yeah, it's doesn't seem like free tethering is going to happen just yet. Well, at least we have a starting point.
via
WPCentral