Mammoth sized black monoliths begin to appear in AT&T stores
9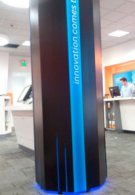 If you happen to visit your local AT&T store recently, you might've seen one of these giant sized black monoliths placed somewhere on the sales floor – being prominently on display for all to see. It's happily being referred to as the "Hero" display which would naturally bring to mind something pretty substantial and groundbreaking. However, it is basically jargon for "featured" and pops up more questions than answers surrounding its secretive nature. Along its sides, you can make out the text saying "innovation comes to life" and another with the usual "Rethink Possible" slogan that AT&T has been employing since April. Although there are many speculations as to what it can it possibly be all about, the front runners right now are looking to be the Dell Streak, Dell Aero, Windows Phone 7, and the BlackBerry Bold/Torch 9800.
Since
RIM's press event is only a few days away
, it could be more possible that it is related to that – especially when you think about the black color of the monolith and how this upcoming smartphone is expected to be innovative. Not only is the Bold/Torch 9800 taking a new approach in form factor, but it's also going to jump start RIM's brand new OS 6 platform which will hopefully place it in contention with some of the modern offerings. In any case, there will be plenty of intrigue with these black monoliths standing squarely on the floors of some AT&T stores across the country, but let's hope things become more clear in the upcoming days or weeks.
source:
Gizmodo