BlackBerry 9800 Slider to be introduced next Tuesday?
7

Nothing like getting an invitation to a party. And this one is bound to be a special event because of the possible guest of honor. Next Tuesday, August 3rd, AT&T and BlackBerry are getting together for a soiree. As the invite states, the door opens at 10:30 am with the festivities starting at 11am. The guest of honor? How about the drool producing, highly anticipated BlackBerry 9800 touchscreen/slider now seemingly called the Torch. This is the handset that RIM is heavily counting on to put BlackBerry in the same ballpark as the iPhone 4, and Android, webOS and Windows Phone 7 models; prior to this device, one could argue that not only was BlackBerry not in the same ballpark as those handsets, they weren't even playing the same game.
Now, the BlackBerry 6 OS features more multimedia capabilities, and a WebKit browser that takes a back seat to no other. With the new browser offering tabbed pages, "pinch-to-zoom" support and fast and accurate rendering speeds, the BlackBerry Torch 9800 is going to give some cellphone buyers a tough time deciding which phone to buy. No longer will the iPhone or Android be a lay-up. From what we have seen of the BlackBerry 9800, it is an elegantly styled, well crafted device that not only looks good, but can hang with the best of them when it comes to video, surfing and other multimedia action. And with the Bold-esque QWERTY keyboard, this phone is something that BlackBerry fans have dreamed about for a long time-a touchscreen phone that features an outstanding BlackBerry keyboard. By Tuesday afternoon, that dream could be reality. The last time we reported on the model, the speculation was that the phone would be launched August 15th on AT&T and this party would dovetail perfectly with that launch date. Could anything spoil the party? Just try not to mention BlackBerry App World until the guests have all departed.
source: BlackBerry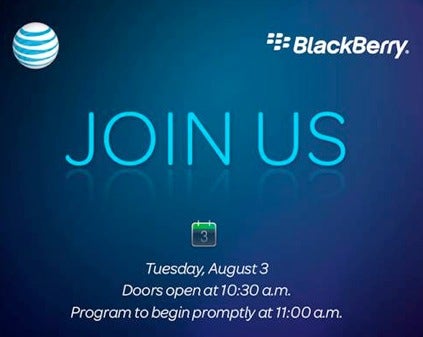 It's a BYOB party-Bring your own BlackBerry