Make free voice calls to the U.S. and Canada after update to Hangouts for iOS
18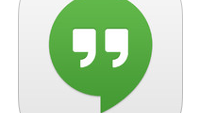 An update to Google Hangouts for iOS adds a voice calling feature that allows users to make free calls in the U.S. and Canada. Hangouts will use your Google Voice number for outgoing calls and incoming calls to that number can be answered from your Hangouts app. If you're an Android user and can't find this feature on your Hangouts app, well, that is because it doesn't exist yet.
The Hangouts for iOS app is cross-platform and not only does it allow people using different OS to communicate, it also allows people using a desktop system and a mobile system to talk. And if you are on a device powered by Google's open source OS, no need for jealousy. You will eventually be receiving the same update that the iOS users are now enjoying.
Besides allowing you to make those free calls to the U.S. and Canada, the update also adds animated GIF support and incoming calls now pause your music instead of turning it off. Yup, it's all good for iOS users and if you don't have Google Hangouts on your iPhone, iPad or iPod, now is the time to install it.
source: Hangouts (
iOS
),
Google+
via
Engadget