Gmail for Android now allows you to undo emails already sent
2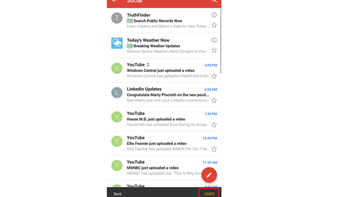 So let's say that you have been composing an email to your boss using the Gmail for Android app and you just sent it. But it quickly dawns on you that you accidentally typed that he is a zero instead of writing hero. Sure, you could send a follow-up email that explains how the cat accidentally grazed your elbow which led to the mistake, but your boss has a low tolerance for BS. Besides looking for a new job, what can you do?
Well, if your Android phone has version 8.7 of Gmail (or higher) installed, you can undo the missive, and have it removed from the recipient's inbox. Here's how. At the bottom of the screen after you click the send icon, you will find a black bar. On the left side, it will say "Sending" on the left in white, and CANCEL in yellow on the right. If you catch your mistake very quickly, you can prevent the message from getting sent out. But you don't have much time, and if you can't cancel the email, the word CANCEL is replaced with UNDO. That means that the email has been sent, but you can have it returned and removed from the receiving party's Gmail inbox.
It would appear that you will have about seven or eight seconds to click the UNDO button and have the erroneous email deleted as though it never existed. After tapping on UNDO, you are sent back to the Compose screen so that you can make the necessary changes to your letter before sending it again. In our hypothetical example, that would mean replacing the "z" in zero with an "h."
Google has updated its support page to add the new feature. Check it out by clicking on the source link below.