Magic Duels: Origins hands-on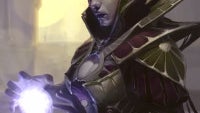 If you're an iPad owner and have a cult following to anything remotely related to Magic: The Gathering, you'll first be glad to know that Magic will be following the process of going free to play with Magic Duels: Origins, which is making its arrival on Xbox One, PC via Steam, PlayStation 4, and iPad later this year. For those of you wondering, Magic Duels: Origins is the successor to the popular Duels of the Planewalker franchise, which we got the chance to
check out first hand last year
.
At PAX East 2015, the latest title in the series makes its debut in playable form – where we got the chance to see it in action. In this latest installment, players take control of five of the most iconic Planeswalkers, and play through their exciting storylines. Essentially, the game expands its depth through the aid of regular downloadable content that will no doubt delight players. Be warned, though, gamers who aren't heavily into this particular type of gameplay might find the action a little tedious for their liking.
On the flip side, however, if you're longtime fans of the popular franchise, the exciting new set of features with Magic Duels include:
Improved Deck Builder with step-by-step deck construction guidance
First-ever playable Planeswalker cards
Solo Battle mode featuring virtually endless AI opponents
Expanded multiplayer options, including Two-Headed Giant mode
Quest system with new individual and community challenges every week
Limitless Free-to-Play with 100% earnable content
All-new Skill Quest tutorial system
Now, if you intend on investing some serious time into this, just know beforehand that Magic Origins showcases 10 different planes in its cards – where each Planewalker's origin story is comprised out of two planes. Anyone familiar with the series will be familiar with these 10 worlds, seeing that they've been visited in previous Magic sets. Check out the game in action below!