Magazine signed by Steve Jobs fetches more than $50K at auction
10
Last month, we told you about
a copy of Newsweek magazine that was going to be auctioned off
. Dated October 24th, 1988, the cover featured the picture of a 33-year old Steve Jobs. The headline, "Mr. Chips. Steve Jobs Puts The 'Wow' Back In Computers," was related to the magazine's cover story, which was all about Jobs' unveiling of the first NeXT Computer. Besides the picture of Jobs on the cover, this particular copy of the magazine included something very rare and valuable: Steve Jobs' autograph.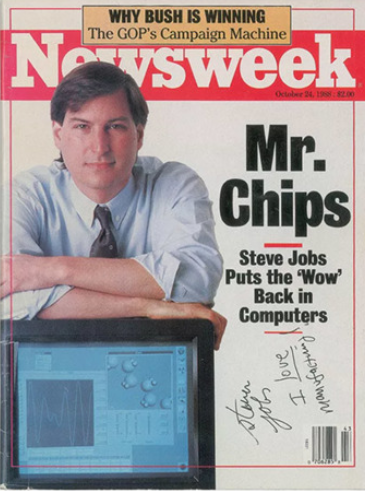 This Newsweek magazine, signed by Steve Jobs, was won in an auction for $50,587.60
Putting the magazine up for an initial bid of $1,000 was Denise Williams, a former senior buyer for software firm Lotus Development Corp. She was attending the NeXT computer unveiling when she approached Jobs' and asked him to sign the magazine. Even though he first declined, saying "I don't do autographs," Williams eventually won Jobs over, and he signed the cover of the magazine by writing "I love manufacturing." He underlined the word love.
As we said, the initial bid for the magazine was $1,000. The winning bid? $50,587.60 which included the buyer's premium. Instead of buying the magazine and the autograph, the winning bidder could have used the money to pre-order a huge number of 256GB
Apple iPhone X
handsets (44 without taxes). The signed copy of Newsweek received 34 bids from 18 qualified buyers.
Apple purchased NeXT in 1997 for $429 million and 1.5 million shares of Apple stock. This was a big turning point for Apple because the deal brought Steve Jobs back to the company he co-founded. The next year, Apple released the iMac, and things were never the same again. The Apple iPod was released in 2001.
In 2007, Jobs introduced the iPhone
and the iPad was unveiled three years later. Apple is now the most valuable company in the world.
source:
RRAuction
via
AppleInsider