Lumia 950 and Lumia 950 XL outed in new slides that also confirm specs
79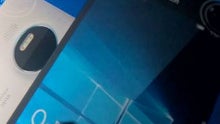 With precious little flagship action for Windows-based smartphone owners to mull over these past few years, the
Lumia 950
and
950 XL
will be carrying the torch soon enough. Following on from
the Lumia 950 XL screenshot
we caught a couple of days back, an interesting new leak offers a solid scoop on those all-important tech. specs. Windows Phone has long managed comfortably on moderately powered internal hardware thanks to the smooth, optimized nature of it and the newer Windows 10 Mobile. But the way the mobile market has gone these past few years, a Microsoft powerhouse does feel long overdue, and as has now been all-but confirmed, the wish will soon be granted.
The design of the Lumia 950 and 950 XL, as has been established, will be largely polycarbonate. This would usually be a black mark, for plasticky finishes have become synonymous with cheap, below-par build quality. But gauging from some of the better Lumia handsets of times passed, higher-level Windows devices have always felt sturdy and premium, so we'd expect nothing less from the upcoming duo.
Some interesting slides from the
Forever Nokia Latin America
Facebook page clear up most lingering doubts about what to expect. The smaller Lumia 950 will include a 5.2-inch WQHD OLED display with a resolution of 1440 x 2560, run on Qualcomm's Snapdragon 808 processor, boast 3-gigs of RAM and 32 GB of on-board storage. Additionally, there will be an infrared iris scanner for Windows Hello, 20-megapixel main shooter and a 5-megapixel front-facing snapper, the latter of which will include a wide-angle lens.
We're expecting a 3000 mAh battery keeping things ticking over, and unlike an increasing number of flagship devices, you'll be able to swap it out at your leisure. The Lumia brand has long been an advocate of Qi wireless charging, and the Lumia 950 is no different, so you'll be able to power up without the tedium of plugging in.
The Lumia 950 XL, meanwhile, will be almost identical to its counterpart. It'll house a larger display of 5.7 inches in diameter, although it will include the same resolution, so won't be as sharp as the smaller model. The other main difference will be the inclusion of the controversial Snapdragon 810, which has been dubbed the
"flagship killer"
by many of our readers throughout 2015. Despite the improvements made by Qualcomm, the chip has been demonized somewhat, and as such, may put prospective Lumia 950 XL owners off the purchase.
The XL model will offer a slightly more sizeable 3300 mAh battery, a 1mm silver ring lining the camera pod, and aluminum side buttons for a touch of finesse. Both the 950 and the XL version will get USB Type-C -- a feature we're seeing across the board with top-end handsets -- and each will offer the option of matte white or black color configurations.
Here's a full round-up of the slides. Let us know of your thoughts via the comments:
Recommended Stories