Low priced ZTE Open, powered by the Firefox OS, up for bids on eBay
1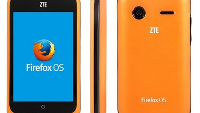 Thanks to an amazingly low price, the Firefox OS powered
ZTE Open
sold out on the Chinese manufacturer's eBay store in the U.S. and U.K. Trying to launch a new OS at this time is an incredibly hard task and working to get traction for a new platform is even harder. But the ZTE Open competed on the one thing that can level all playing fields. And that is price. The phone cost £59.99 in the U.K. and $79.99 in the U.S., competing against handsets that cost hundreds more. The manufacturer's store on eBay might be sold out but the model is still available from private sellers who have the phone up for auction. So far, we've seen some bidders willing to pay
more than $116
for the phone.
While we discuss the specs, keep the price in mind. The ZTE Open has a 3.5 inch screen, the same as that other top brand used to offer (you know the one!) Under the hood is a single-core 1GHz processor and the Adreno 200 handles graphics. 256MB of RAM is on board with 512MB of native storage! There is a 3.2 MP rear-facing camera, just like the one on your
LG Dare
. And a 1200mAh battery powers the device.
"Mozilla is dedicated to moving the web forward as a platform for innovation and building products that people love. We are pleased that now we will put the full power of the web in even more people's hands. With a great potential user base, we know that even more developers around the world will create their apps with new APIs to stimulate an inspiring new wave of innovation."
-Dr. Li Gong, vice president, Mozilla
The Firefox OS has the potential to put parent company Mozilla in the big leagues,but it still is a long shot. In 2011, the company had revenue of $121 million vs. $200 billion for the top three OS providers. Mozilla VP Dr. Li Gong says that getting a large use base is important to attract developers to write the apps needed to move the platform forward. When you look at the pricing of the Firefox phone, that is less of an issue for Mozilla and in fact, plays right into its hands to build up a large user base.

The Firefox OS powered ZTE Open is up for bids on eBay
source:
Telegraph
via
BGR