Low light camera performance test: Galaxy S7 vs Galaxy S6 edge+
55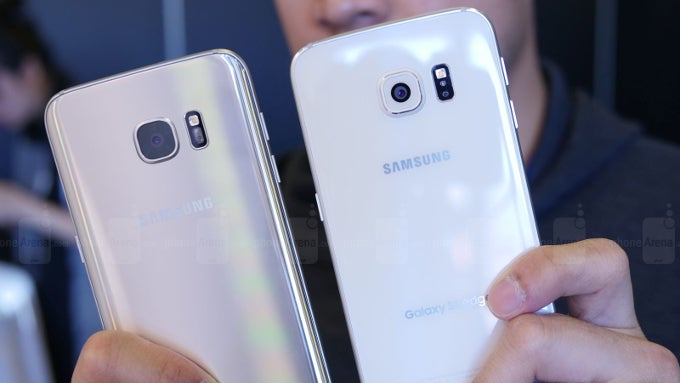 Well, folks, as expected, the
Galaxy S7
and
Galaxy S7 edge
are now a reality and chock-full of the latest and greatest smartphone hardware. Some may be surprised by this, but Sammy actually knocked down the resolution of its flagships' cameras to 12 MP from 16 MP in their predecessors. However, contrary to a belief that is still somewhat popular, it's not all about the
megapixels
. Sensor, aperture, and
pixel
size are also pretty important factors that determine how much light the camera is able to capture in the short period of time that a snap is taken. For the price of reducing the camera's resolution by 4 MP, Samsung gained individual pixels sized at
1.4
μm — a substantial upgrade over the 1.12 μm pixels of the
Galaxy S7
. The aperture and sensor have also grown to F1.7 and 1/2.5", from F1.9 and 1/2.6" on the older flagship.
OK, OK, enough numbers and technical words – how does this affect the new Galaxies, exactly? Well, the new cameras should be able to perform noticeable better in low-light conditions. Think no-flash bar shots, twilight photography, and even night shots. The
Galaxy S6
and its siblings was pretty good in those areas, considering it's a smartphone and not a professional grade camera, and we were curious to check how the S7 does. Of course, a short hands-on time is not enough to put the camera through a lot of different conditions, but Samsung at least had set up a box for low-light photography tests.
The box in question has a picture set up inside it, and the luminance inside measures at 1.5 lux, according to Samsung (1 lux equals the amount of light that falls on a one-square-meter surface that is one meter away from a single candle. In other words – it's pretty dim in there). We had both a
Galaxy S6 edge+
and Galaxy S7 set in Pro mode and both had their settings at identical levels — 1/6 shuter speed and ISO 640 – cookie-cutter values for dark environments. So, the difference you see between both pictures comes entirely from the different sensors and any possible changes into the post-processing algorithms, which we have no access to.
< Galaxy S6 edge+
Galaxy S7 >
100% crop 1
< Galaxy S6 edge+
Galaxy S7 >
100% crop 2
< Galaxy S6 edge+
Galaxy S7 >
Admittedly, it's not a mindblowing distinction, especially when we view the images in normal zoom, as most consumers would. The Galaxy S7 produces a slightly brighter image. One could argue that it's also slightly more yellowish, but since we don't know how exactly the box looked from the inside, it could also be said that it's the Galaxy S6
edge+
that produces a more blueish image.
Zooming in for a 100% crop, we can see that the older Galaxy introduces a bit more grainy noise when compared to its successor. Again, it's not a difference that might cause one to immediately sell their Galaxy S6 and pre-order the S7, but we appreciate the upgrade to an already great camera. You can check out or even download the full images from the gallery below and inspect them up close at your leisure. What do you think?