Loved Flappy Bird? Then say hello to Timberman
11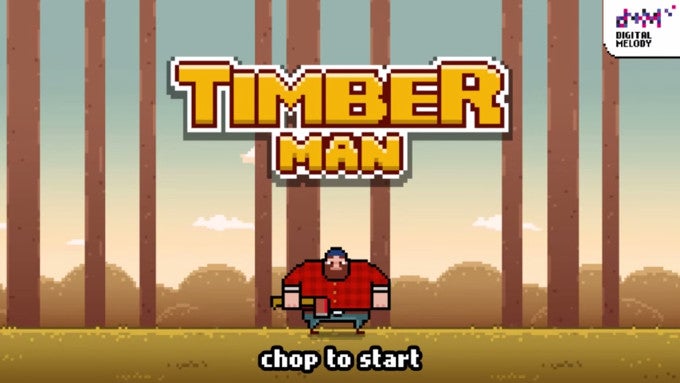 | | |
| --- | --- |
| Developer: Digital Melody | Download: Android, iOS |
| Genre: Arcade | Price: Free (with in-app purchases) |
Remember Flappy Bird? It's safe to say that the craze has died out, even though it's still an extremely popular game. But what was it that caused Flappy Bird to go viral?
In our opinion -- a number of things. For one, the game was extremely clear in what is expected of you, and everybody could get going in a matter of minutes after installing the game. What's more, it allowed for fairly fast replays, not to mention that it was just darn hard. If all of those kept you glued to your smartphone's tiny display, then Timberman likely has the potential to do the same.
Timberman, like Flappy Bird, adopts retro-style graphics, and is actually outright emulating the look and feel of the hit game. However, instead of tapping on the screen every now and then in order to keep a virtual bird in the air, all the while dodging obstacles, in Timberman things are slightly different. You're not dodging green pipes here, instead you're tapping on either side of a tree, trying to avoid descending branches, all the while chopping some quality tree. Unlike Flappy Bird, there's also a timer, so the farther you get, the faster you need to tap to keep ahead, and that definitely adds a sense of urgency to the gameplay. Indeed, the more you play, the more it'll become obvious to you just how good your hands are at coordinating with your brain, and you might be surprised to realize you got yourself out of a seeming pickle without even thinking about it.
Before we go, fair warning: this thing is addictive. Our first run clocked in at 45 minutes before we just had to put the phone down. That's Flappy Bird-like scary. The office record sits at 287 right now. Think you're better than us?