Lots of technical issues at ZTE's CES press conference, but plenty of magic!
8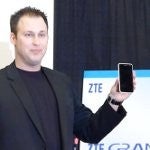 Yesterday at
ZTE's press conference at CES
, there were numerous technical problems that littered the presentation. From the cramp confines to the over capacity of attendees, there were barely any smiles on the faces of people sitting and standing waiting for the show to begin. From microphone issues to many other things, it seemed as though there wasn't much fanfare surrounding it – especially when it focused solely on the
ZTE Grand S
.
In easing the tension, ZTE hired one interesting
master magician/illusionist, Jason Michaels,
to get the crowd pumped up right from the start. So much so that in between the ZTE executives speaking there, he managed to enthrall the crowd, including us, with his array of
tricks
. Early on in the press conference, he drew a picture of a bowling ball on a piece of paper, which he then proceeded to drop an actual bowling ball from it – crazy stuff indeed!
Even better, during the second half of the event, he ripped up a newspaper into many small pieces and then crumbled them all up together into a ball. With his almighty powers, he was able to magically put them back together! As for the actual unveiling of the ZTE Grand S, he devised this clever scheme to use a light bulb to shine the handset into existence. All told, we have to say we were most entertained by his tricks – though, we can't say the same about the speakers there. Then again, the handset at the center of it is still interesting, but the tricks were no doubt the show stealer!