ZTE Grand S announced as the thinnest Full HD 5-incher of them all
21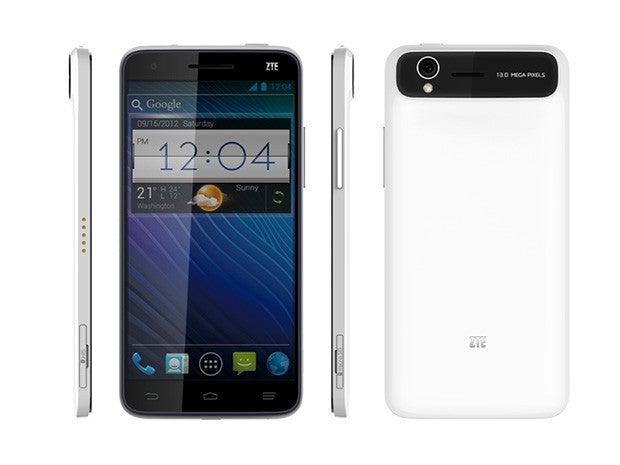 Titles of "world's thinnest" are a dime a dozen in the smartphone world, with barely a month without someone touting their handset's record "at its thinnest part". Yet when this term is used for one of the new crop of handsets with 5" Full HD displays, one ought to listen.
That's precisely what ZTE is using to brag about its
Grand S
flagship it just unveiled at CES 2013, and at just
6.9 mm thin
, who can blame the manufacturer for basking in the phone's svelte dimensions.
The Grand S sports the said 5" 1920x1080 pixels display, and gets powered by a pimped quad-core 1.7 GHz Snapdragon S4 Pro. It also has 2 GB RAM and 16 GB of storage, yet makes room for a microSD slot. A 13 MP rear cam and a 2 MP front-facing shooter capable of 1080 video round up the top-shelf specs, leaving you to drool over a handset that China will see as soon as this quarter.
About the only thing sacrificed to achieve the "thinnest" title is the battery capacity. At 1,780 mAh, it is the smallest of them all 5-incher units, and with this resolution and overclocked processor, endurance tests have to show whether the Grand S took any major blow in battery life for strutting its slim chassis on the Android catwalk.
ZTE Announces World Debut of the Thinnest 5.0 FHD Quad-core Smartphone Grand S at CES 2013

Introducing more High-end Smartphones with Power and Style in 2013

LAS VEGAS, N.V. – January 8, 2012 – From the 2013 International Consumer Electronics Show (CES), ZTE Corporation ("ZTE") (H share stock code: 0763.HK / A share stock code: 000063.SZ), a publicly-listed global provider of telecommunications equipment, network solutions and mobile devices, today announced the world debut of the ZTE Grand S – 5.0 FHD LTE. As the flagship handset in ZTE's high-end Grand Series line of products, the ZTE Grand S is the company's first FHD smartphone and the world's thinnest within 5 inch FHD quad-core smartphones, enabled by the Qualcomm Snapdragon S4 Pro processor, a product of Qualcomm Technologies, Inc., a wholly-owned subsidiary of Qualcomm Incorporated. Developed by ZTE, the ultrathin body and high definition display of the ZTE Grand S offer consumers the latest in style, quality and functionality.

From the full-website display which enables optimal content browsing, to the 4G LTE high-speed network which powers a world-class multimedia experience, the ZTE Grand S offers cutting-edge features for even the most discerning smartphone user. The blazingly fast 4G LTE network allows for top-speed downloading and establishes the handset as a premier gaming and movie-viewing portal. Furthermore, the ZTE Grand S offers smartphone photography mavens advanced functions for more vivid self-photography and video calling effects. With face recognition, anti-shake and a panoramic camera, the ZTE Grand S truly presents a high-quality multimedia option for today's smartphone audience.

The introduction of the ZTE Grand S completes the new Grand Series, which also includes the Grand Era and Grand X. In the series, the ZTE Grand X is for consumers with a passion for high tech, the ZTE Grand Era is for the most advanced smartphone user and the ZTE Grand S is the flagship handset offering the perfect combination of art and technology. The ZTE Grand S represents the company's latest entry in a new era of smartphone design, which will continue in 2013 with the introduction of additional high-end smartphones.

"The ZTE Grand S gives our customers the latest in technology, functionality and style. We understand that today's consumers call for advanced features and state-of-the-art multimedia options in their handsets, and the ZTE Grand S confidently addresses those demands," said Mr. Kan Yulun, Corporate Vice President of ZTE Corporation and CTO of the ZTE Mobile Device Division. "It is fitting that we can announce the world debut of the ZTE Grand S at CES 2013, the world's largest annual innovation event."

Key features of the ZTE Grand S include:

4G LTE –Customers can expect fast download speeds of 100 Mbps and upload speeds of 50 Mbps in 4G LTE Mobile Broadband coverage areas
Qualcomm Snapdragon S4 Pro processor with 1.7GHz quad-core CPU
Android Jelly Bean operating system
13M AF camera with Flash and 2M FF 1080P video
Expert hardware and software safety protection standard - Palm Manager helps users manage mobile phone software, optimize electricity use and protect private information
5 inch FHD screen capable of full-website display
Dolby Digital surround sound
Memory: 2GB RAM + 16GB EMMC
Dimensions: 142*69*6.9mm

The ZTE Grand S was introduced at a special press event at the Las Vegas Convention Center and will remain on display at the ZTE booth (Las Vegas Convention Center, Booth #36612) throughout CES.

The ZTE Grand S will be available for online purchase in China first in Q1 of 2013