Loophole in 'employee' definition allows 'forced interns' at Foxconn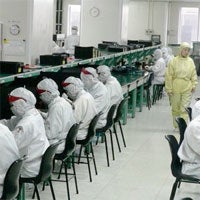 While Tim Cook and Foxconn look to make improvements to become legally compliant with labor laws after the Fair Labor Association (FLA)
found "serious and pressing noncompliance" in Foxconn factories
, a group of activists are drawing attention to another labor violation that they say has slipped under the radar.
While the FLA's report concerns itself with employees of Foxconn, there is another type of worker who doesn't fall under that category – student interns. Under Chinese law there is no employment relationship between the factory and the interns, making it near impossible to regulate conditions for students.
Debby Cheng, project officer of Students and Scholars Against Corporate Misbehaviour (Sacom), said of the FLA audits, "The gross violation of forced internship was not addressed at all. They tried to water down the problem."
Sacom claims that students from all disciplines are send to Foxconn, not for relevant job experience or training, but just as additional workers, particularly during holiday periods. Many of these students' internships last 3 to 6 months and are often filled with 10-hour days and seven-day workweeks.
Compounding the problem, many students claim that they are at Foxconn against their will. China Daily ran a story in which it reported students from a vocation school in Zhengzhou where only told 9 days before the start of their internship that them must leave "as ordered by the provincial government." Anyone that refused was told that they had to drop out of school.
The FLA did find that Foxconn hired an average of 27,000 interns a month with an average stay of three and a half months. It also said in its Apple audit that it found the hiring of interns to be "the source of much controversy" and of "major concern to external stakeholders."
While the FLA recommended that, moving forward, intern's jobs be related to their fields of study and their work be limited to no more than 8 hours a day for five days a week, the FLA did conclude that the employment status of interns "remains vague and represents a major risk."
Sacom, which was originally setup by Hong Kong academics to drawn attention to plant conditions at facilities that manufactured toys for Hong Kong Disneyland, is expanding to focus on the rising concerns occurring in the electronics sector. In March, it issued a letter to Tim Cook explaining its findings and calling for a stop to this "form of involuntary labour."
source:
TheGuardian