Look ma, no bezel! Sharp's Sprint-bound Aquos Crystal gets featured in video ads
46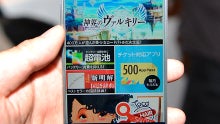 In case you have been waiting for the future where our devices are mostly screen, and no bezels, the future might be already here, as
Sharp's EDGEST
design language just took a turn for the extreme, with the newest Sprint-bound
Aquos Crystal
. Japan's SoftBank carrier, which will put the handset on preorder tomorrow, outed a series of videos extolling the virtues of its newest compact design with almost no side and top bezels, that allows the Sprint-bound Crystal model to fit a 5" panel in a size that is more akin to a 4.5" model.
As a reminder, the phone is just 5 inches (131mm) in height and 2.6 inches (67mm) in width. For comparison, it is about as compact as the
Moto G
, while having a half-inch larger display diagonal. Sprint has an event tomorrow in New York, titled "Take the edge off." Given the fact that in the SoftBank press release the Aquos Crystal is said to land on Sprint, which is owned by the Japanese carrier, it's not hard to deduce that tomorrow we might see the first tangible fruit of the Sprint's buyout for us, consumers, and with a record-busting handset at that.
Looking at the specs sheet, it will likely be priced as a midranger, yet perhaps the most ergonomic one ever seen. Take a peek at the video promos in the slideshow below, and rest assured we will cover all the festivities in New York tomorrow.