Lollipop runs on less than 0.1% of all Android devices, KitKat now powers 34% of them
36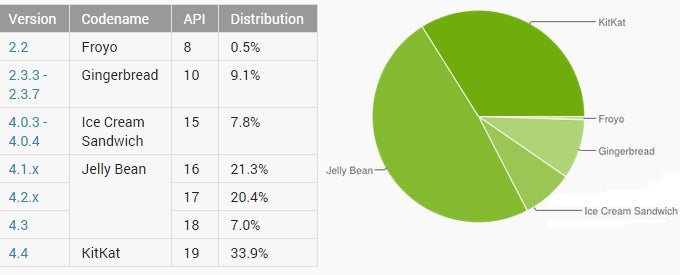 Google is regularly sharing details on
Android distribution numbers
, so we're almost always up to date with what versions of the OS are the most widely used. The latest numbers show that Android 4.4 KitKat was running on 33.9% of all devices that visited Google Play Store in the last week (November 24 - December 1). One month ago, KitKat was running on only 30.2% of devices.
Still, the most widespread version of Android remains Jelly Bean (4.1, 4.2, 4.3), as this can be found on 48.7% of devices. Many Jelly Bean devices won't receive further updates, so we'll be seeing this version remaining on top for quite some time from now on. Android Ice Cream Sandwich (7.8%), Android Gingerbread (9.1%) and Android Froyo (0.5%) are also mentioned in the latest numbers.
Google notes that all Android versions that run on less than 0.1% of devices aren't included in the pie chart above - which means that Android 5.0 Lollipop has yet to make a significant impact. But that's not really surprising, since Lollipop updates only started a few weeks ago, and most devices have yet to receive them. We'll be keeping an eye on this and let you know how things evolve in the coming months.