Lock Screen Weather for iPhone does what it says with a catch
49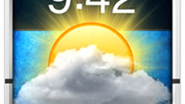 With iOS 5, heaps of new and much needed features were added to Apple's mobile platform, but one thing we wish was there - dynamic weather updates straight from your lockscreen - remained something third-party app creators had to do. And the Lock Screen Weather for iPhone does just that for a mere $0.99.
Now, here's a quick summary of its features:
Current weather conditions on your lock screen
An optional five day weather forecast.
Support for tens of thousands of cities around the world.
Current weather and future forecasts updated regularly.
Both Fahrenheit and Celsius units supported.
An original set of weather graphics for every conceivable weather condition.
The idea sounds great, but there's a caveat. In order to work all the time and give you dynamic weather updates, the Lock Screen Weather app plays a sound file in the background all the time. So basically this app relies on the way iOS handles album art - dynamically updated for every track, but instead of album art you get the weather forecast. Neat idea, but after all this is a battery drain, and doesn't play well when you want to play your own music at the same time.
Sadly, this would also mute all notifications except for calls, and you might want to keep those. But we should admit it's a very clever workaround and hopefully would prompt Apple to bring us real time weather from the lockscreen in a future iOS update.
Recommended Stories