Living with the Apple iPhone 6: battery life, or my secret life as a wall-hugger (part 3)
83
This article may contain personal views and opinion from the author.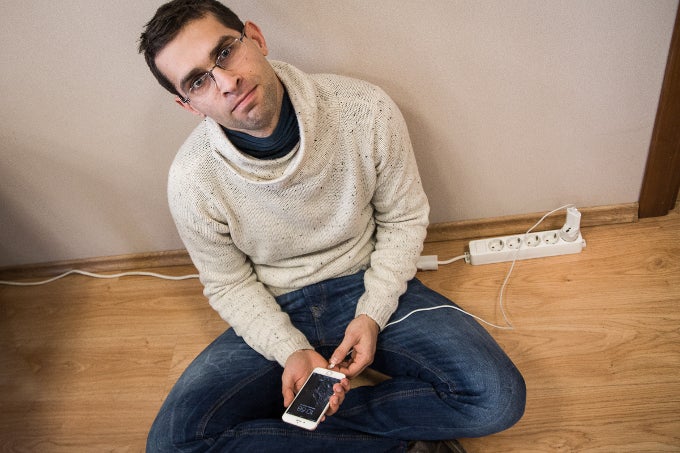 Me, meditating over the fact that I've become a certified wall-hugger. Or not?
The iPhone 6 has filled a glaring gap in Apple's portfolio: after all Android smartphone makers had offered large-screen iPhones for years on end, Apple was the only one lacking a phone with a big display. The demand was clearly there as when the release of the iPhone 6 with its larger, 4.7-inch display triggered an enthusiastic reaction not just from the Apple faithful, but also for many that had made the switch to an Android device for its bigger screen estate.
One particularly polarizing part of the iPhone equation, a characteristic that could still make you have second thoughts about switching to Apple's latest, is battery life. The fact that the iPhone has a tiny, 1810mAh battery while its direct rival, the 5.1-inch Samsung Galaxy S5 has a 2800mAh battery is quite the shocker.
Is iOS really so well optimized as to make up for the difference? And how does this technical difference in capacity translate into real life use? This is my personal story with the iPhone 6, a phone I've been using on and off for a couple of months.
Battery life: test numbers and real-life use
When we ran our initial iPhone 6 battery life test here at PhoneArena, I was shocked by the results: I did not expect the 1810mAh juicer of the iPhone to beat the competition, commonly equipped with larger batteries, but I also did not expect it to lose by such a huge margin.
How big was the difference? The Galaxy S5 had a nearly 40% longer battery life. The HTC One (M8) outlasted the iPhone by nearly 35%, even the pretty mediocre by Android standards LG G3 outscored the iPhone 6 by a healthy double-digit percent margin. The only popular phone that had worse battery life than the iPhone 6 was the Nexus 5, but that is not really a compliment as Google's 2013 flagship is commonly known to have poor longevity.
I should also make it extra clear that our battery life test puts all phones on a level playing field with displays pre-calibrated at 200 nits of brightness. What happens next is that we run a custom script that simulates typical smartphone use, but without ever turning the screen off. This non-stop longevity is the actual result of our battery life testing.
With all this in mind, I have some good news and some bad news about the iPhone 6 battery life. First, the bad news is that those numbers agree with all of my real-life testing: the iPhone 6 cannot match the battery longevity of most of its Android rivals (and this once again shows how reliable our testing results are).
I have some good news and some bad news about the iPhone 6 battery
The good news? I found that this difference mattered less than I expected in my personal use, and what is very likely to be the common use case for many people. I am not trying to justify Apple for its decision to put such a small battery in its flagship, but fact remains that on a typical 9 to 5 type of a job, the phone does last a full work day off the charger and then a little more. Basically, the iPhone 6 has just enough juice so that you get to charge it nightly, and while other phones like the Samsung Galaxy Note 4 do last a bit longer, chances are that the difference is just not that big and you still have to charge them overnight every day.
I approached this four-week living with the iPhone 6 experiment with a lot of caution because of what I knew would be sub-par battery life on Apple's flagship. My fears, however, turned out to be blown out of proportion.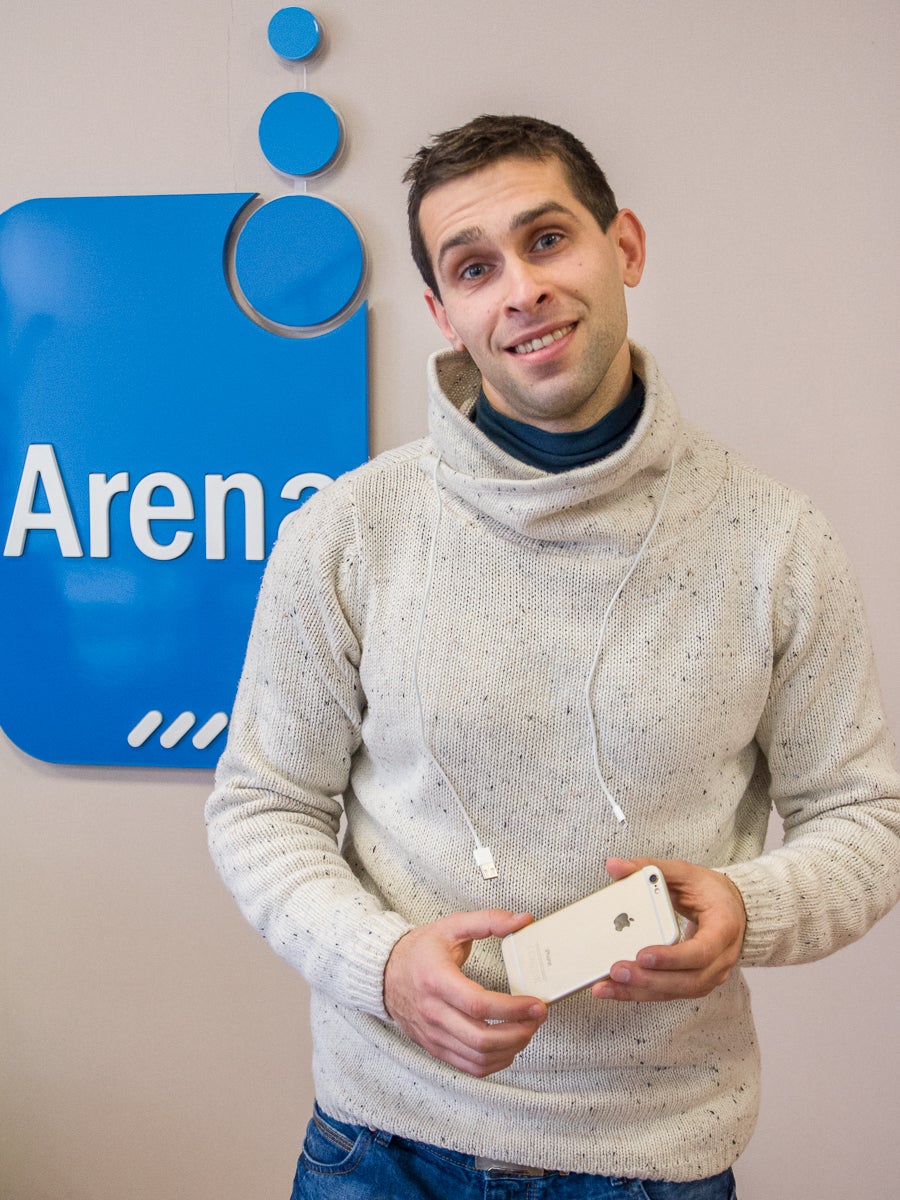 Living la vida cabuh-loca
Interestingly, this experiment has made me reconsider priorities. I found little real-life change to my habits: just as I plugged in my Android phone (I've recently lived with the Galaxy S5 for a few months, also a few weeks with the Note 4) overnight, I did the same with the iPhone.
What was particularly revealing is that my mind kept coming back to remind that it was not battery longevity, but another feature that contributed most to my satisfaction with how satisfactory the smartphone experience is: re-charge time.
Being able to go for a quick pit stop, and have your phone recharged to some 75% in just half an hour is what contributes most to my feeling of an untethered, truly mobile experience. And if there was one feature I would wish for most in the iPhone 6s it would not be a larger battery, but something different: fast recharging times. Currently, and somewhat strangely, it is an exotic phone from China that excels in this: the Oppo Find 7, with its ultra-fast, VOOC charging technology.
Tight control over apps makes the iPhone's battery life very predictable

One final aspect of the iPhone 6's battery life is just how predictable it is.




This is a double-edged sword: apps hybernate quickly, and I was surprised to see that apps like Spotify stop synchronizing my playlists when I locked the iPhone 6 (which could leave me without my music on a recent trip, had I not noticed this on time), and that's something that does not happen on Android.

Yet, there is great peace of mind knowing that no app will suck up your data and your battery in a stealthy, quiet, sneaky way (we're looking at you Google Plus, Facebook, and countless others). This is an issue of control, and Apple's ecosystem has got it.

All of this results in you being very confident in the battery life of the iPhone. You know that it will not surprise you and suddenly drop a few percentage points. And yes, the iPhone 6 has a pretty amazing stand-by time, as the overnight drain is just around 2%.




And this concludes our third week of explorations of the iPhone 6. Stay tuned for next week's instalment where we will look at one of the iPhone 6's most praised features - its camera.