Liveblog: Nokia announcing new Lumia devices at Nokia World
18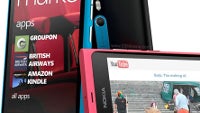 Welcome to our liveblog of Nokia World 2013! Windows Phone may not be making the biggest headlines these days, but this sure is a big event for Nokia, as the company, which was recently bought by Microsoft, is gearing up to unveil a number of exciting devices!
While it's not yet certain exactly what the venerable manufacturer is going to unleash upon us, it is said that what we're going to see will be no less than a high-end phablet, a cheaper Lumia, the first Lumia tablet, as well as some new Asha feature phones with touchscreens. Well, regardless of whether you're a fan of those live tiles or not, we have to admit that Nokia
is
Windows Phone right now, and the company is doing whatever it can to officially transform Microsoft's platform into the third mobile ecosystem.
Stay with us in order to get all the news from the show as it unfolds - look no further than the live feed below!
THE EVENT STARTS AT: 3AM ET | 2AM CT | 1 AM MT | 12AM PT | 7AM GMT | 9AM CET