Linux gurus toy with Android ICS, make a 100% faster Linaro build and slap it on the Galaxy Nexus
29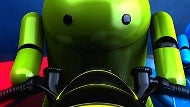 Some Linux programmers decided to dig deep into the latest Android Ice Cream Sandwich source code, and came up with a new version called Linaro. What was the purpose? To optimize the heck out of the code, clean it up and achieve up to twice faster performance than stock ICS.
Moreover, the Linaro distro of Android 4.0 has attracted the attention of the CyanogenMod crew, and we all know what happens then. The end result is a CM9 nightly build with Linaro running on a
Galaxy Nexus
, which is chewing through synthetic benchmarks like a beaver through pretzels.
Owners of a Verizon or а GSM Galaxy Nexus can take it for a spin from the source link, but what chunks of that code will end up in the CM9 source code for the main release and when will it be ready is up to the CyanogenMod guys.
The Linaro creators say there's only so much you can do with software spring cleaning, though, so they give us a glimpse of porting the build over for Cortex-A15 processors and the respective performance leap. Hopefully Google's software engineers will be taking a peek at Linaro's optimizations as well, as it seems that the ground work has been done for them already.