Linus Torvalds thinks Nokia should have gone Android
36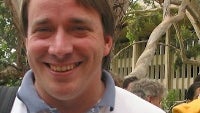 Linus Torvalds is a name virtually every Linux user knows - he's the person behind Linux's kernel and his name is embedded in the very name of the operating system. The OS expert has been living the States for around 20 years now, but he went back to his homeland of Finland this week to receive the Millenium Technology Prize and local publications got a chance to interview him to learn about his opinion on the booming mobile industry.
Particularly interesting is Torvalds' opinion on Finland's pride, Nokia. The Linux guru said Nokia would have been better off choosing Android for its main future platform rather than Windows Phone. Moreover, the
Nokia Windows Phone was a mistake
according to him, but an understandable one if you look at current Nokia CEO Stephen Elop's background at Microsoft. And his preference for Android is not surprising given that the platform in its core is a Linux implementation, is it?
Currently, Torvalds himself is
sporting an Android phone
and particularly appreciates the state-of-the-art email experience despite not liking mobile phones in general. The Linux expert also had a couple of words about Windows, which he thinks has become popular as people were forced to use it at work and didn't have the time to learn a new operating system.
Now, agree or not, Torvalds' opinion likely won't change the course for neither Nokia nor Microsoft. You can voice your opinions as well - in the comments below.