Lenovo and Disney teaming up for immersive Star Wars VR experience
3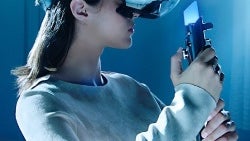 At a company event, Disney unveiled a VR system it has been developing with
Lenovo
to create an immersive Star Wars experience. For example, you can be playing HoloChess with movie characters, or engaging in lightsaber battles using a dedicated controller peripheral – that kind of cool stuff!
The Star Wars Jedi Challenges system comprises a special VR headset, a lightsaber controller, and apps ran on your smartphone. The headset is of the type where your smartphone is mounted in the front, so nothing too revolutionary here. But then again, this would help for a manageable price tag that probably wouldn't be higher than the Samsung Gear VR's - $100 to $130, depending on whether you score a promotion.
Unfortunately, details are scarce, and the release date or price are yet to be confirmed. However, we do get to know that the system will be sold in Best Buy and Lenovo's online store. Also, here's a sneak video peak at how the whole thing plays out in its current form. All in all, it's going to make for a pretty rad toy!
ALSO READ