Lenovo Vibe X2 Pro vs Samsung Galaxy Note 4: first look
8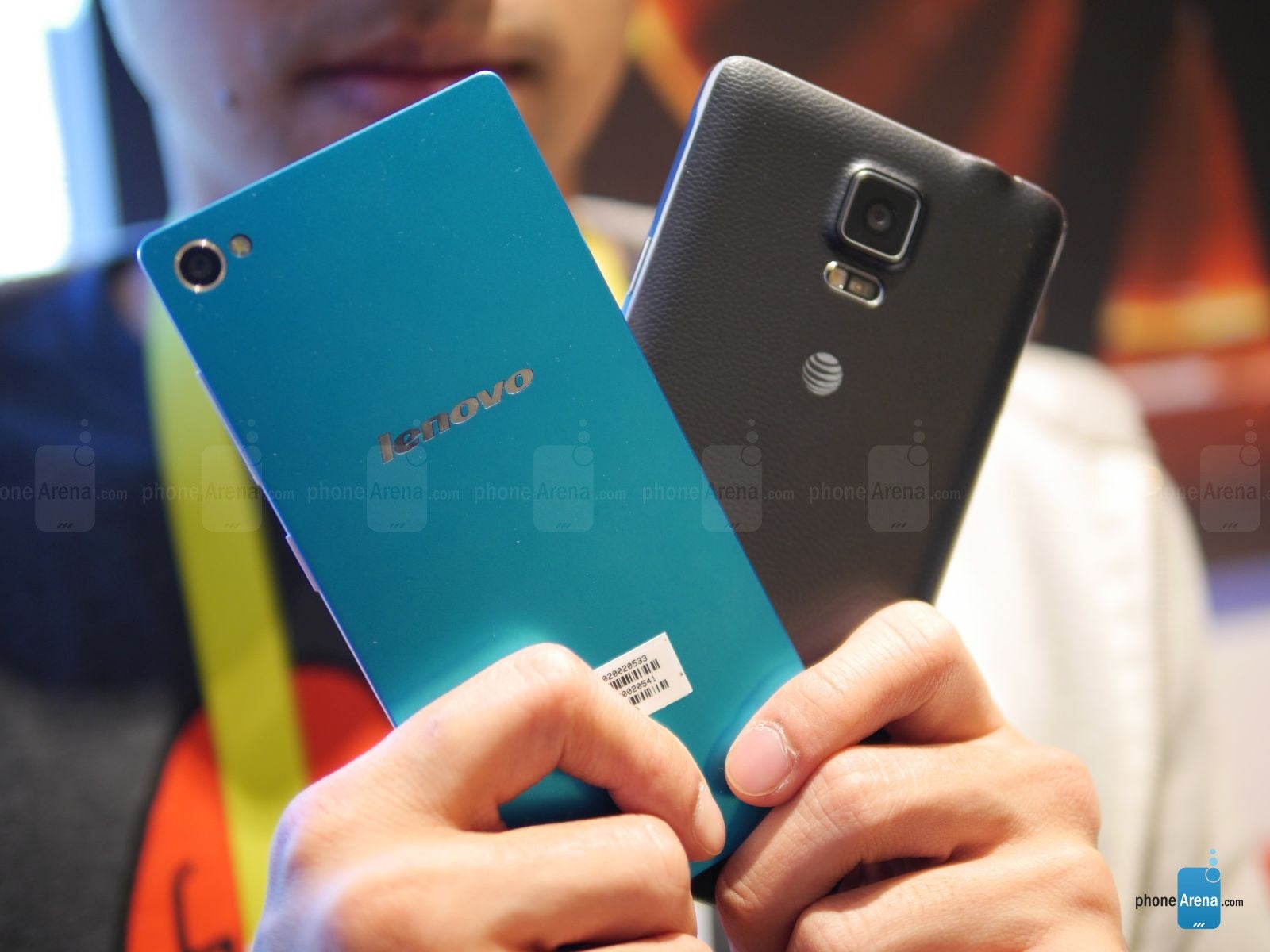 Although it won't be US-bound, the layered Lenovo Vibe X2 Pro surely deserves our undivided attention. It might not be an uber-spec'd beast like, say, the Samsung Galaxy Note, but surely, it has the potential to appeal to a large flock of potential adopters. We had the chance to have a first-row hands-on time with one of Lenovo's newest devices, and guess what, we had a Galaxy Note 4 nearby. That's right, it's time for a hands-on comparison between the handsets in question!
Design
Layered or "mundane" aluminum side frames, what's your poison? Surely, both the Lenovo Videvices will appeal to different types of people. Lenovo's new trooper is fully made of metal, with the focus being on the layers on the sides, whereas Samsung's most potent powerhouse as of now puts its faith into aluminum, at least when it comes to the side frames. Generally speaking, both devices are sleek and elegant, each with its own merits and flaws.
Size-wise, we have a David vs Goliath state of affairs. The Note 4 is noticeably taller, wider, and thicker than the sleeker-looking Vibe X2 Pro. This Lenovo phone is also way lighter than the hefty phablet. Naturally, the Vibe X2 Pro is easier to handle and sits more comfortably in the hand. Then again, we shouldn't forget that we are dealing with a duo of predominantly different devices.
Display
The Samsung Galaxy Note 4 has a bigger display with a higher resolution and a superior pixel density in comparison with the Lenovo Vibe X2 Pro. The S Pen phablet has a 5.7-inch Super AMOLED screen with a Quad HD resolution of 1440 x 2560 pixels, resulting in the quite high pixel density of 515ppi. In the meantime, we have a way more regular 5.3" 1080p IPS LCD display with a pixel density of 416ppi over at Lenovo's camp.
Surely, the substantially different display technologies bear more than one difference between themselves, and the vice and virtues of both the AMOLED and the LCD technologies surely apply.
Interface
Well, this is one of the aspects in which the Galaxy Note 4 shines like a star. Not only is its Android 4.4 KitKat-based TouchWiz UI one of the most feature-packed stock Android variations, but the on-board S Pen provides a whole another level of interface functionality. The phablet will also receive Android 5.0 Lollipop sooner than later, certainly beating the Vibe X2 Pro in this aspect.
That's why it is quite hard for most manufacturers, let alone Lenovo, to match the extensiveness of TouchWiz. But that's usually a good thing, as the simpler Android distributions tend to be better-received by the Android aficionados.
The Vibe X2 Pro's Vibe UI 2.0, which employs the same philosophy as Xiaomi's MIUI, Meizu's Flyme OS, and most importantly, Apple's iOS, comes with a large number of features on board. It's also based on Android 4.4 KitKat, yet we wouldn't count on a Lollipop build for the phone in the foreseeable future.
Processor and memory
The David vs Goliath analogy continues in the hardware section as well. Lenovo's new layered offering is by no means an under-powered phone. After all, it comes with a 64-bit, octa-core Snapdragon 615 chipset, which would pair nicely with the 64-bit Android 5.0. The 2GB of RAM are perfectly sufficient for KitKat to do its job.
Then again, the Lenovo Vibe X2 Pro will have a hard time matching the hardware prowess of the Note 4. Equipped with a quad-core Snapdragon 805 оr an octa-core Exynos Octa 7, either of which are paired with 3GB of RAM, which makes sure that opening a handful of heavy tasks will be entirely possible.
Camera
13MP vs 16MP - this is what the Vibe X2 Pro and the Note 4 have in tow, respectively. The Note 4 is a bit more feature-rich, though - it comes with an both optical and digital image stabilizations, a wide variety of different modes, as well as the ability to record ultra-detailed 4K videos.
Meanwhile, the Vibe X2 Pro has a 13MP shooter at the back, which will probably serve you well, but the focus here is on the front-facing, also 13MP front-facing shooter. Naturally, the Vibe X2 Pro desires to be your selfie-centric phone of choice. This makes it superior to the Galaxy Note 4's merely 3.7MP front camera, at least on paper. We'll have to put them against each other to see if this is truly the case, though.
Expectations

It will be fair to say that Lenovo is stepping its game up and trying to further establish itself as one of the top smartphone makers in the world. The Lenovo Vibe X2 Pro seems like a good contender, though Lenovo's decision to keep it out of North America is as puzzling as it gets.

Meanwhile, the potent Note 4 will remain one of the kings on top of Android Summit for the foreseeable future. Yet, as time progresses, we are likely to see more and more contenders for its crown. The Vibe X2 Pro is not one of them, but let's not forget that it never intended to be.