Legere: T-Mobile's message responsible for surge in customers, not the Apple iPhone
19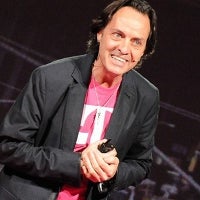 T-Mobile added 1.1 million net new customers in the second quarter, which many pundits credited to the availability of the Apple iPhone for the carrier's customers, for the first time. A report released early last month
credited Apple's iconic smartphone with keeping 400,000 T-Mobile customers from leaving
the nation's fourth largest carrier. But if you ask T-Mobile CEO John Legere, he will tell you that it wasn't the iPhone at all that turned the mobile operator around.
Legere says that it was T-Mobile's message, of being the "Un-carrier" that brought customers to the carrier, and kept the ones that were already there from leaving. T-Mobile stopped subsidizing the cost of new phones with higher wireless costs.
T-Mobile also started its JUMP plan
for those who want to upgrade their phones more often. So far 700,000 customers have signed up for the program, which was eventually copied by Verizon and AT&T.
Yes, things are looking up for T-Mobile, led by the outspoken Legere who has become a media darling
starting with his comments calling AT&T's network "crap" during CES
. "
The postpaid phone net adds for T-Mobile exceeded those of AT&T, Sprint and Verizon (added) together
," the CEO recently said. "
To me, that's one of the strongest statements you can make about a quarter
." In addition, for every two T-Mobile customers leaving, the operator is bringing in three new customers from AT&T and Sprint.
Last quarter, iPhone sales represented only 21% of T-Mobile's smartphone sales, a number Legere calls "healthy." Although the CEO doesn't credit the iPhone for the carrier's surge in the second quarter, Legere still expects to do plenty of business with Apple in the future.
source:
AllThingsD
via
AppleInsider