Study: Apple iPhone saves T-Mobile from losing up to 400,000 customers
36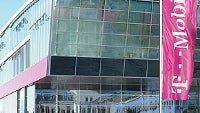 A report from Consumer Intelligence Research Partners suggests that if it weren't for the Apple iPhone making its long awaited appearance on T-Mobile's line-up, the carrier would have lost
300,000 to 400,000
current subscribers to other operators that offer the phone. The actual figure could have been much higher. A poll taken before the iPhone landed on T-Mobile showed that 25% of the carrier's subscribers were planning on switching to the iPhone for their next handset.
The 300,000-400,000 figure comes from a survey of 500 phone activations between April and June, 75 of which were on T-Mobile. Prior to offering the Apple iPhone on the nation's fourth largest carrier,
T-Mobile had been promoting its network and unlimited plans for unlocked iPhone users
. In the quarter following the April debut of Apple's iconic device on T-Mobile, the latter sold more than
half a million units
of the phone.
Now that T-Mobile reps can point to an iPhone of the carrier's own, there is no longer the fear that customers will bolt to another operator just because of the still-popular handset. Can T-Mobile use this momentum to make a move toward the nation's third largest carrier, Sprint?
source:
electronista