Leaked screen shot shows a June 8th launch for the Samsung Gravity Touch 2 "GT2″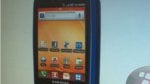 June 8th is no doubt shaping to become one memorable day for T-Mobile customers all around, especially when it's
looking like the anticipated release date for the HTC Sensation 4G
, but let's not forget about the others out there.
In fact, it appears as though that T-Mobile will also have an additional handset up its sleeve to appease customers who don't necessarily want to side with something so grand – meaning, those who prefer something more in the mid-range group. Based on a leaked internal screen shot, it looks like the
Samsung Gravity Touch 2
, or
GT2
more aptly, is going to go on sale the
same day
as the HTC Sensation 4G. Rather than targeting power user, this mid-range smartphone described as the "
first Android device for the Gravity brand that is optimized for texting
."
Specifically, it'll feature things like a 3.2" touchscreen, slide-out physical keyboard, 3-megapixel camera, 800MHz processor, and will be powered by Android 2.2 Froyo. Although it doesn't mention whether we'll be seeing any customized Android experience, like TouchWiz, it wouldn't surprise us to see it flaunting something along the lines of being more focused with messaging features in general.
So if the Sensation 4G is just too much phone for your taste, then maybe the Samsung Gravity Touch 2 might be something that you'll settle with?
source:
TmoNews